On paper, there are lots of reasons to opt for a lesser, more sensible BMW Gran Coupe than the 440i, including running costs, purchase price and CO2. These are significant factors, and I get why business users might be attracted to the four-cylinder diesels and petrols – the 420d M Sport, for instance, costs £37k (440i: £45k) and offers 62.8mpg (440i: 41.5mpg); a 420d doesn't even look particularly different to a 440i with those M Sport styling add-ons. But I don't think the Gran Coupe's more luxurious positioning over the very similar 3-series rings true with four-pot power, and each time I press the starter button I'm so grateful I've got the only six-cylinder petrol available in the Gran Coupe range.
The 3.0-litre engine clears its throat with a purposeful gravelly roar, one that's a little deeper than the naturally-aspirated BMW straight sixes I've loved ever since I bought a 1994 3.0-litre M3 – which, incidentally, the 440i outpunches to the tune of 40bhp and a huge 96lb ft, the latter in particular a benefit of turbocharging. There's a lovely, smooth woofle under gentle acceleration, very little lag despite the forced induction, and a flexible surge of midrange thrust that makes overtaking effortless – even if you keep the eight-speed auto in manual mode and hold fourth or fifth gear.
But I also think this engine is more faithful to Munich's old straight sixes when you make a break for the redline than the M4's related engine. I think that's partly because the midrange torque is reduced, and feels like it comes in more progressively. The M4 gives you it all in a wallop that makes chasing the redline a bit pointless, where I still relish stretching the 440i right out to 7000rpm, at which point it's still pulling strongly and with real energy. It's like those old engines, just enhanced.
For me, the only sensible, more affordable substitute would be a 430d M Sport, which – unlike the 430i petrol – remains a smooth-talking straight six. That costs £42k, serves up 254bhp and a 440i-beating 413lb ft, and promises up to 53.3mpg. For a lot of the driving I do, it'd probably be the better compromise. But would I swap into one if I could? Not a chance.
---
Month 2 living with a BMW 440i Gran Coupe: do the driving modes work?
The 440i has a selection of driving modes that you access via a couple of switches next to the gearstick: Eco Pro, Comfort, Sport and Sport +.
Sport makes the engine and gearbox shift strategy a little more aggressive and responsive, which I prefer, but it also adds extra weight to the steering and – because our car has the optional adaptive dampers – tighter damping.
For daily driving, that's unnecessary, especially in terms of the suspension, which I think already strikes a great balance between refinement and control in the Comfort setting. You can opt out of the changes to steering and suspension if you dig deeper into the sub-menus.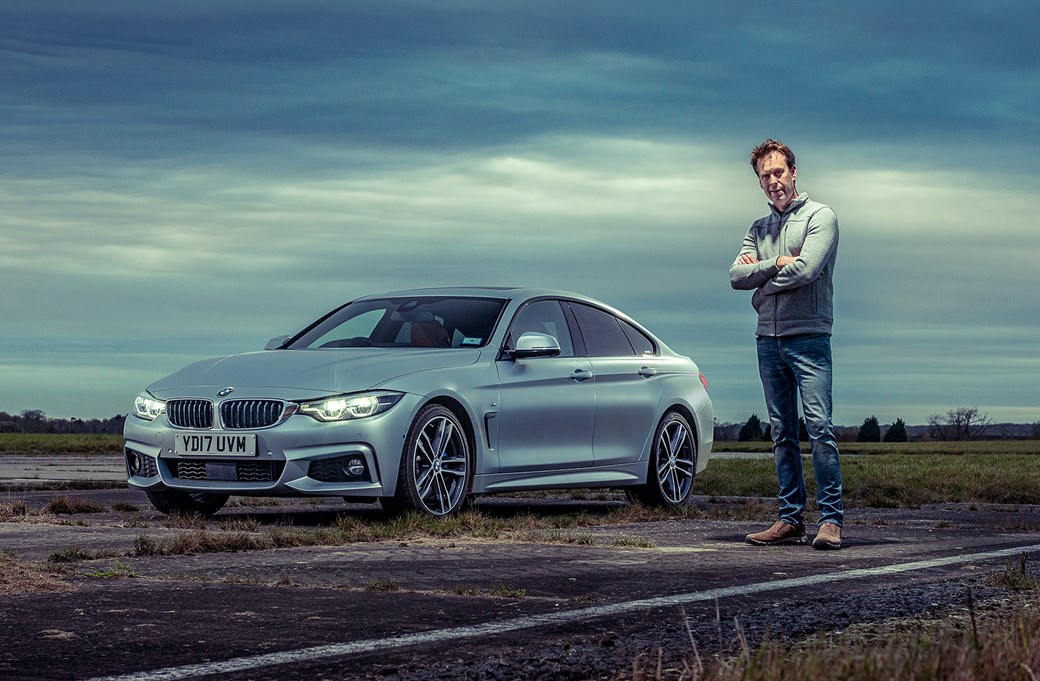 Month 1 of our BMW 4-series Gran Coupe long-term test: the introduction
Shortly before CAR's new long-term BMW 440i Gran Coupe test car arrived, some friends provided a useful bit of context. They were choosing between a previous-generation 3-series and slightly used 4-series, and thought a 4 was bigger than a 3 but smaller than a 5. Which is completely logical but, of course, wrong. Since 2013, BMW has been applying the 4-series name to cars previously known as 3-series coupes and convertibles. Presumably this makes these models seem more special than the bread-and-butter saloons and estates.
In 2014 it added an all-new body style, the 4-series Gran Coupe, essentially a 4-series coupe with rear doors, more elegant frame-less glass, and a hatchback rear. That's what we're testing.
Recently, the entire 3- and 4-series line-up was given a midlife tickle. The most obvious tweaks for our Gran Coupe relate to the replacement of xenon headlights with LED headlights and tail lights. There are also new wheel designs, an updated interior with gloss black trim, a double-stitched dashboard, some electro-plated trim and updated infotainment too. The latter includes a tile layout for functions such as sat-nav, radio and telephone, which are highlighted as you scroll over them using the rotary control near the gearstick. We discovered in the X3 test last month that this works very well.
Chassis updates also include an increase in suspension stiffness. BMW claims better straight-line stability, more communicative steering and better handling, all with no loss of ride comfort. We'll see about that.
You can get in a 4-series Gran Coupe for £33k, but that's for the 420i (despite the upper-crust positioning, you still get prole-spec engines). We've gone for the 440i Gran Coupe, the next best thing to an M4 or M3; there is currently no such thing as an M4 Gran Coupe from M division.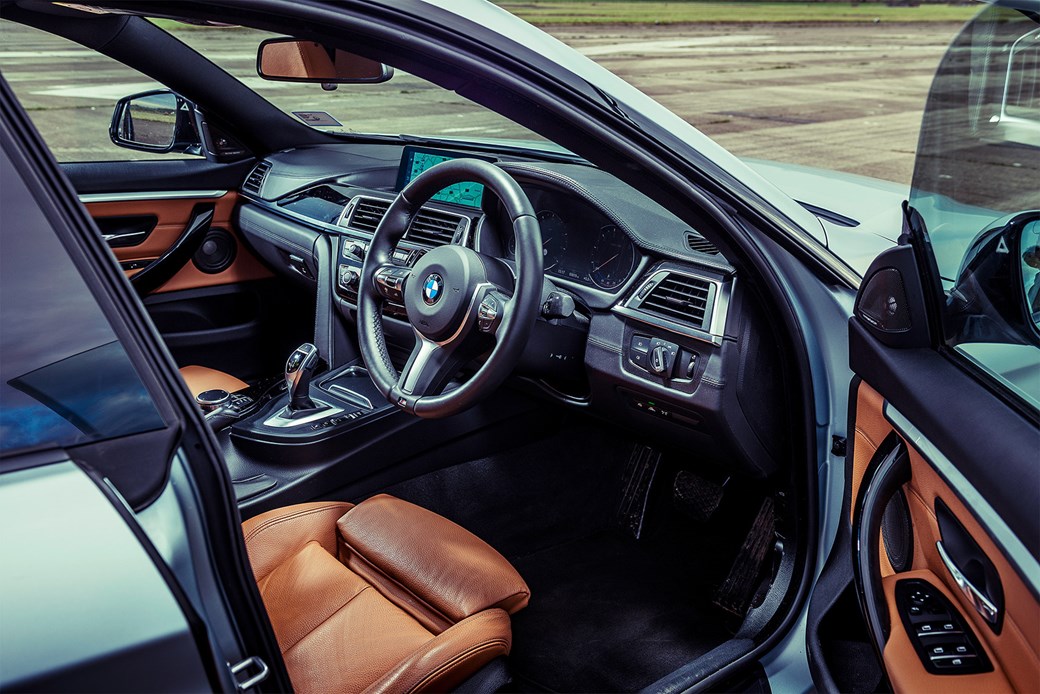 Our car's vital stats are 322bhp and 322lb ft, and we'll see how close we get to the official 41.5mpg while dipping into that performance and enjoying the chassis.
While xDrive all-wheel drive is available for most Gran Coupes including the comparable 435d diesel, the 440i comes only with rear-wheel drive. An eight-speed auto is also standard. So if you want a six-cylinder, petrol Gran Coupe, your options narrow to this, the rear-drive auto 440i. It costs £45,490. On top of that, our test car gets £12k of options – that's £1k more than the entire cost of the 2009 320i Touring we bought three years back.
The most obvious is Frozen Silver metallic paint, which looks pretty fantastic but makes me fear for car washes, especially at £1880. I'll certainly only be hand-washing it. It's complemented by no-cost Cognac (brown) leather, which I like.
The remainder of the list breaks down as extra piano black trim (£375), heated steering wheel (£155), leather instrument panel (£815), glass sunroof (£895), split-folding rear seats (£170), lumbar support (£265), active cruise with stop-and-go (£620), surround-view camera (£500), adaptive LED headlights (£1050), digital cockpit (£295), Apple CarPlay (£235), and many things to which the word 'package' is appended, namely advanced parking (£545), active security (£995), driver comfort (£720), dynamic (£600) and the M Sport Plus package (£2000). It's a meaty list, and we'll debate the pros and cons over the coming months.
But as our 440i Gran Coupe aced a recent Giant Test against the Audi S5 and Kia Stinger GT, it's off to the best possible start.